🔴Watch the full episode on Epoch TV👉👉👉 https://ept.ms/3eqLg9D Folks, we have some exciting new changes to announce! As you all may know, we've been demonetized and suppressed by YouTube over past months, and further YouTube has shown itself to be willing to censor all sorts of important news and content. We obviously don't want to be beholden to YouTube's mysterious rules when deciding what stories to cover or what thought leaders to feature. So we've launched Epoch TV, our new premium subscription video platform, where you'll be able to access exclusive episodes of American Thought Leaders, Crossroads, the Larry Elder show and more! Today, we sit down with Ken Cuccinelli, former acting deputy secretary of the U.S. Department of Homeland Security. Now, he is a visiting fellow at The Heritage Foundation. 🔴Watch the full episode on Epoch TV👉👉👉 https://ept.ms/3eqLg9D #bordercrisis #bidenadministration #ken cuccinelli === 👉Watch EXCLUSIVE episodes only on Epoch TV: www.epochtv.com 💎Subscribe to our mailing list for the latest updates! https://newsletter-et.youmaker.com/?channel=american-thought-leaders 💎Donate to support our work: https://donorbox.org/american-thought-leaders 💎Subscribe to The Epoch Times: http://readepoch.com/ Find out where you can watch us on cable TV: https://www.ntd.com/tv-providers.html Follow Jan on Twitter: https://twitter.com/JanJekielek Facebook: https://www.facebook.com/AmericanThoughtLeaders/ Parler: https://parler.com/profile/atl Rumble: https://rumble.com/c/AmericanThoughtLeaders Telegram: https://t.me/AmThoughtLeader Twitter: http://twitter.com/AmThoughtLeader === Ken Cuccinelli: Radical Left Wants to Exploit Border Surge to Win Elections [10-Min Clip] === Credits: shutterstock Images: https://shutr.bz/2u8Zdp8
Music: Audioblocks.com, epidemicsound.com
Stock Video: Videoblocks.com ————————————————-
© All Rights Reserved.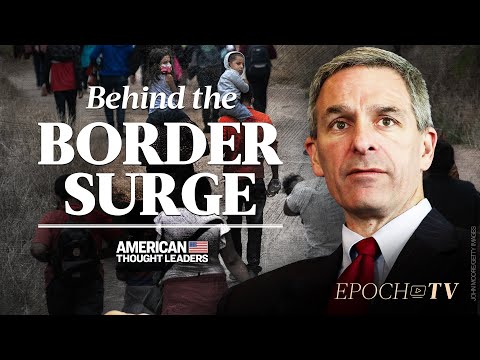 Source: https://www.youtube.com/watch?v=q7fApPi8FAE